Rotary Four-Post Lift SM65-51-MB
---
---
DESCRIPTION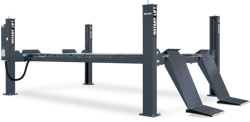 The electro-hydraulic four-post lifts of Rotary Lift are available in numerous versions and can be tailored perfectly to fit the application environment. Especially for precise axle measuring work is a wheel alingment kit (AK) with shifting plates for disposal. Thus, the Lift up of very small (eg, Smart) and extra long vehicles (eg Crafter long) up to a wheelbase of 4,90 m is possible.
All Rotary four-post lifts are equipped with a pneumatically lockable drop-off facility. This guarantees exact axle measuring and a high degree of safety at the workplace.
The functions lifting, lowering and lowering to the drop-off facility can be controlled conveniently via the operating controls.
The maintenance-free lifting cylinder is mounted below the drive surface and thus protected against external forces.
The cold-formed drive surface profile with integrated slide rails increases the rigidity – not only when using jacking beams.
Adjustable ratchet laths in the lifting columns provide for absolutely horizontal alignment of the lift – this is important for precise work when using the lift as axle measuring lift.
The modular construction facilitates almost unlimited possibilities of expanding and upgrading the lift, e.g. with the measuring kit for the axle measuring lift.
Integrated recesses in the drive-on surface allow all standard rotary tables to be fitted. The recesses can be closed completely when no rotary table is used.
SPECIFICATIONS
| | |
| --- | --- |
| Rated load capacity | 6500 kg |
| Stroke | 1990 mm |
| Lifting time | 45 s |
| Ascending height / Rest height | 201 mm |
| Length of runways | 5100 mm |
| Width of runways | 650 mm |
| Space of runways | 900 mm |
| Wheel Bases | 1500-4090 mm |
| Drive-through width | 2986 mm |
| Total length | 6482 mm |
| Overall width | 3522 mm |
| Driving power | 4 kW |
| Power supply voltage (electrical) | 400/50 V/Hz |
| Compressed air connection | 8 - 10 bar |